« Humanitarian »
A project by Igor Antic at the 48th International Exhibition of Contemporary Art of the Venice Biennale: APERTO overALL. The Press release, jun 1999. © Igor Antic 1999.
The inauguration of the 48th Venice Biennale, unfolds in the shadow of the Yugoslav conflict. The use of the word HUMANITARIAN has escalated worldwide in direct proportion to the mass of victims. With its universal emotional charge, the word HUMANITARIAN has gained currency as a sort of reverse hallmark, validating atrocities; it has been rendered meaningless. HUMANITARIAN aid, HUMANITARIAN rallies- a HUMANITARIAN war.
Igor Antic applies this over-familiar term to yet another context, assuming the role of a "refugee" squatter amongst the national pavilions during the Biennale inauguration. The project was designed to mirror reality as closely as possible, within the confines of a venue in which individual countries present their cultural aspirations.
Antic rested, ate and placed himself in relation to various artworks. Visitors' attention was focused upon the squatter's presence and actions through the use of several dozen white plastic carrier bags, bearing the word HUMANITARIAN printed in red. Installed around his temporary encampments, or attached to his itinerant person, these accessories to which no "aesthetic" value might be attached, acquired a purely symbolic function. A plastic bag is a shapeless, worthless and familiar objects, which may serve as a suitcase, wrapper, garment, construction material, territorial marker - even a status symbol.
The main questions Antic's HUMANITARIAN project addresses are: to what extent has political discourse contaminated the world of art? Are artworks affected by the context in which they are exhibited? Are we really able to resist nationalist rhetoric, manipulation by the media, bureaucratic jargon, appeals to surrender to our own aggressiveness, hatred and indifference? In the flood of quasi-democratic verbiage, freedom's boundaries have shrunk. Where now can artists take shelter?
As an artist Antic seeks asylum in the very framework of art, where exchanges are supposed to take place on an inter- or supra - national level.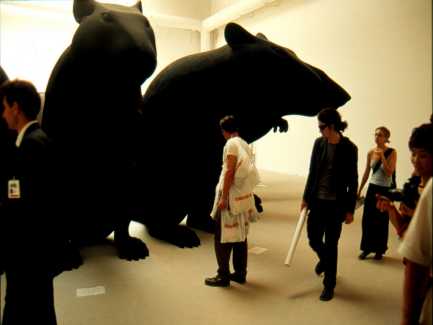 Bibliography, Press, Links:
Syndicate: Humanitarian- by Igor Antic, www.v2.nl/mail/v2east/1999/jun
Claire Staebler: Habiter la biennale, Sans- Gène, http://www.sans- gene.com/juillet99/objet.htm
Nina Slijepcevic: Art in Yugoslavia, Metro issue # 2, Toronto, Canada, winter 2000/2001 http://www.window.to/metro (see: Chronicles in the first person).